ABOUT THE EMBRACE HER LEGACY FOUNDATION
The Embrace Her Legacy Foundation is an international organization that empowers, educates and inspires young women across the globe with personal development skills through our enrichment, education and mentorship programs, international initiatives, scholarship opportunities and economic development to ensure personal transformation, confidence, self-awareness, restoration, a purpose-driven legacy and professional success.
The Embrace Her Legacy Foundation's vision is to create dynamic initiatives for personal healing and development, mentorship opportunities, professional development, and cultivation of dynamic relationships for young women across the globe.
WHAT IS EMBRACE HER LEGACY ACADEMY
Offered under the Embrace Her Legacy framework, our Embrace Her Legacy Academy (formerly the Made to Succeed Academy) is a personal development, leadership development and professional mentorship program offered to high-achieving, teenage girls in the New York City area. Program begins Mon. July 9th and ends on Fri. July 20th, 2018.
Our curriculum is a workshop series with the focal point as the empowerment, personal + leadership development and professional success of young women. Our leadership and mentorship conference is offered as a 2-week immersive and intensive course with customized empowerment and personal development courses while connecting students to esteemed professional women who will serve as positive role-models and guest speakers from various industry sectors (i.e. – entrepreneurship, accounting/finance, fashion and merchandising, business development, marketing, television and radio communications, life-coaching, health and beauty, the non-profit sector, editing and authors etc.)
Students have the opportunity to cultivate relationships for mentorship with our guest speakers.
Video Shot, Edited & Directed by Sontenish Myers
BENEFITS OF THE PROGRAM & EMBRACE HER LEGACY HIGH-SCHOOL AMBASSADORS
We are offering this program to a distinguished group of young women in our area. Accepted students will also gain the opportunity to serve as Embrace Her Legacy High-School Ambassadors.
High school ambassadors are high-school girls who complete the program and possess strong leadership skills to represent Embrace Her Legacy at their respective schools.
Students who successfully complete the Embrace Her Legacy Academy and become Embrace Her Legacy High School Ambassadors gain access to:
Recommendation letters for college applications, internships & career opportunities from Embrace Her Legacy founder, Maria I. Melendez
Opportunity to participate in local, national and international program initiatives
Qualify for an internship with Embrace Her Legacy
Qualify for a mentorship by Embrace Her Legacy founder and other esteemed, professional women in Embrace Her Legacy network.
Develop professional relationships with empowered, professional women who are invited as guest speakers to the program
Complimentary access to all Embrace Her Legacy events
Students you'll get to:
Learn how to design and build your best life
Meet women who've been through what you're going thru, we can help you get where you want to go
How to gain clarity to achieve your education and career goals
Create your own personal success plan
Learn financial success techniques
Enjoy a free space to talk – You'll get to write down questions and we'll answer them in a group setting
Learn how to make your dreams come true
Meet with girls who are motivated and driven just like you
Manage your time better
Learn personal beauty and style tips to embrace professional and individual ized style
Learn how to be comfortable in your own skin
How to deal with your personal relationships (yes even boys!)

Learn how to discover who you are

Kick fear to the curb
PROGRAM GOALS & OBJECTIVES
Our objective is to empower high-achieving students to become confident young women with a positive self-worth and self-image while also creating a framework for young women to lead purpose-driven lives and achieve personal and professional goals.
The overall style of the workshop series is empowering, impactful and engaging with open dialogue. Our founder and master trainer, Maria I. Melendez, eloquently uses her unique style of transparency, wit, expertise in coaching and mentoring while providing a framework which students can effectively apply to their overall personal development, self-esteem and professional success to successfully navigate professional and personal goals.
Along with the curriculum-based courses focused on the empowerment, leadership, personal and professional development of our students, we create an environment where students will also cultivate powerful relationships with influential women including our founder & CEO, who is an author, motivational speaker who coaches and mentors young women all over the NYC area.
Embrace Her Legacy will have several guest speakers and panelists to not only extend their valuable knowledge and experience but to also develop potential mentorship relationships with the young women in the program.
This program is ideal for students who are high-achieving, college-bound, highly career and education oriented who want to develop strategic relationships with other success-driven, like-minded young women while growing in personal and leadership development.
PROGRAM STRATEGY
We pride ourselves in authenticity and assuring that students achieve their best life where students leave this program with not only a clear vision of success, but also a detailed framework of how to accomplish those goals.
We use different meditation and visualization exercises, written assignments, lectures, experiential learning, sharing personal experiences and coaching techniques to motivate, educate and empower students.

Each session will conclude with action-steps for students to actively engage in their overall personal development throughout the course. The curriculum has been tailored to focus on the challenges that a teenage girl faces today.
WATCH 2017 SUMMER INSTITUTE VIDEO RECAP & TESTIMONIALS FROM PREVIOUS STUDENTS
"The program has helped me re-focus on my power and potential as a woman. I am now determined more than ever because I know that if I follow the strategies you taught us, I will make a difference."

"My favorite part of the program was gaining a mentor. Maria is someone I can emulate and learn from. I'm less fearful and discouraging towards my dreams and aspirations. I understand the immense power that I hold and how it can influence the many outcomes in my life."

"I learned so much about the importance of forgiving my past and even though it is my story, its purpose is to find power in it and not to be put into a mindset of guilt and frustration. I have everything in my life to look forward to and you reminded me of that."
"I have become much more aware of the things I need to work on, whether it is how to love myself more or how to love others."

"I actually become more open. Since the program, I could say that I met new friends and made connections because this program made me less afraid to be who I am and want to be, and to do more!"
"The program was actually better than what I expected because throughout the three/four weeks of the program, I followed many of the advices that Maria gave and was able to build better relationship with my friends and also myself."
"I hope that more young girls attend your program because I am positive this program will change them for the better, just as it did for me. I mean, my life is for the most part pretty much the same but I see slight changes in my behavior and I am sure I'll remember your words and my life will take a turn down the road."

We want you to learn how to become who you have been called to be in order to honor what you have been called to do. You have a purpose to fulfill and these are a series of courses to empower you to grow in confidence and success. We will teach you how to set, define and achieve your goals to achieve your dreams, how to combat fear, how to embrace true confidence in this social media world, how to embrace the power of your story, how to develop a strong self-worth, how to develop meaningful professional and personal relationships, how to embrace your confidence and much more!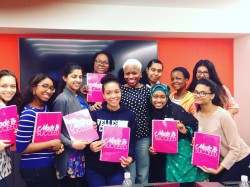 PREVIOUS STUDENT SCHOOLS:
Brooklyn Technical High School
The Young Women's Leadership School of East Harlem
The Young Women's Leadership School of Astoria
Central Park East High School
Cobble Hill High School
Queens Prepatory Academy
Benjamin Banneker Academy for Community and Development
Academy of Mount St Ursula
Monsignor Scanlan High School
High School for Health Professions and Human Services
Manhattan Center For Science And Mathematics
Uniondale High School
Fort Hamilton High School
Columbia Secondary School
Harlem Villages Academies High School
NYC iSchool
Urban Assembly Institute of Math and Science for Young Women
The Renaissance Charter School
PREVIOUS GUEST SPEAKERS INCLUDE
WATCH THE PROGRAM IN ACTION
INSIDE THE PROGRAM CURRICULUM*

How to Tap into the Power of Your Story – A confidence workshop focused on overcoming insecurities where we'll discuss and have interactive activities on confidence, the power in your individual story and removing masks of perfection and insecurities.

Face Your Fears to Win the Battlefield in Your Mind – A personal development and transformational workshop focused on creating a framework to empower students with the mindset of overcoming obstacles on the journey of professional and personal success while also learning how to identify fear and how to defeat negative thinking, speaking and acting in order to cultivate a positive mindset for attracting success.

Becoming a Goal-Slayer to Realize Your Dreams – An intensive personal development workshop where students will learn specific and proven strategies to effectively define, set and achieve personal and professional goals. Students will clearly create a vision plan and set goals in areas of career, education, income, family, finances, lifestyle and time-management. Students will learn to identify resources , develop a specific action plan for each goal and cultivate the motivation to achieve that plan.

Developing a Dynamic Network & Healthy Relationships – Students will learn keys to developing powerful personal and professional relationships, professional relationship building/networking skills and how to implement boundaries in personal relationships. Also learning to identify signs of toxic or abusive relationships.
Annual Panel Event with Women Who Embrace Their Legacy – A panel discussion/networking workshop discussion with several esteemed professional women on success, career, confidence and the opportunity for students to network/build relationships with our women.
The Age of the Selfie: Real Talk About Confidence & Your Personal Brand in a Digital Age – An empowerment workshop focused on learning how to embrace true confidence and high self-esteem while navigating through the pressures of social media while learning personal branding techniques to distinguish students from competitors for professional opportunities and college acceptance.
Get Your Money Right: Financial Literacy 101: Financial literacy class focused on financial success principles
The 7 Deadly Limits of Becoming Legendary – Students will learn to identify common mistakes that can hinder one's success like negative and limited thinking, failing to have a success plan, allowing others to measure success and strategies to identify and overcome these obstacles
Embrace Your Beauty and Dress for the Life You Want: An inner beauty and style coaching class for students to embrace individual style while navigating a professional career

Living a Purpose-Driven Life/Girl Chat Empowerment Forum – A roundtable discussion focused on sisterhood and confidence and key takeaways for the program where students learn how to live in accordance to the legacy they like to leave.
*Limited list and is subject to change.
*Limited list and is subject to change.
SUMMER 2018 PROGRAM DATES
July 9th -July 20th, 2018
11am-2pm each day
Excluding weekends

LOCATION
National Opera Center
330 7th Seventh Ave
New York, NY 10001
TUITION
Individual tuition cost for the program: $375
WHO SHOULD APPLY TO THE PROGRAM
Embrace Her Legacy is looking for New York City high-school girls who possess the following criteria to apply for the program:
Strong academic GPA
Possesses leadership qualities and potential
Demonstrated communication skills
Success and career-driven
Goal-oriented
Passionate about women/girl empowerment
Involved in academic or social organizations
Previous leadership and teamwork experience a plus
Ability to work well with others
Self-motivated
Positive attitude
In order to be considered for the program, all interested applicants must complete the application form below. Once the applicant submits their application, an Embrace Her Legacy staff member will reach out via email to qualified applicants to set-up a phone interview or request any additional information.
Following the phone interview a final decision of the applicant's status will be made and she will be notified via email whether she has been accepted to the program. Once accepted into the program, the applicant has (7) days from the date of receiving their acceptance letter to provide the entire tuition payment and the signed parent/guardian consent form in order to secure their spot in the program. The tuition invoice via email and can be paid via debit/credit card or check written out to Embrace Her Legacy.
All accepted applicants, MUST submit our signed Parent/Guardian consent form upon acceptance into the program. The form will be attached to the acceptance email.
Due to the amount of applicants we receive, if the accepted applicant does not submit the payment within the 7-day grace period then the applicant is forfeiting her position in the program.
REFUND POLICY
Please note that once your tuition is received, your tuition is non-refundable. We allow the grace period of 7-days to assure that this investment into your future is something that you want to pursue. We understand that unforeseeable circumstances may occur, nevertheless, we have to remain diligent with our business relationships that are supporting this program.
Please note that we highly encourage students to apply as soon as possible as acceptances are on a first come, first serve basis
SCHOLARSHIPS
Please note that this is a small program, therefore, a very limited amount full-ride and partial scholarships are available which are first-come, first-serve and are merit-based scholarships for high-excelling students with a 90 GPA (3.7) or higher only. Students will have to will have to submit an additional essay and copy of latest report card in order to qualify for a scholarship.
APPLICATION
Apply for the program here
HOW TO CONTACT US
Still have a question? Then no worries feel free to email info@embraceherlegacy.com and someone will get back to you within 1-2 business days.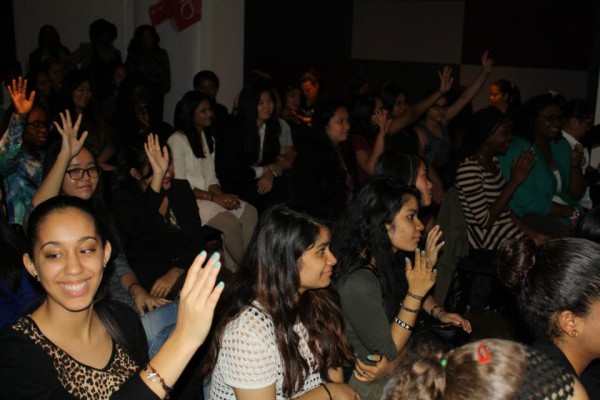 For schools and organizations interested in implementing the program, please contact us at info@embraceherlegacy.com