INTERESTED IN JOINING OUR TEAM? 
We are currently looking to add the following roles to our team: 

---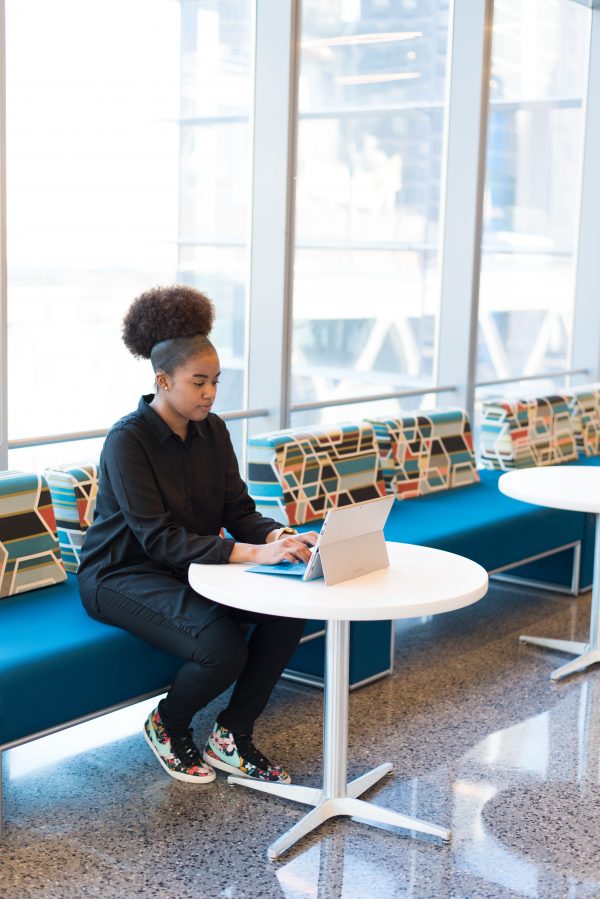 SUMMER INTERNSHIP 2023: REMOTE 
Description
Our interns work closely with our executive team in daily social media management, creating graphic designs, and program coordination. One of the primary responsibilities of our interns is to coordinate and manage our daily social media across the following channels: Instagram, TikTok, YouTube, LinkedIn and Facebook.
You will be trained, therefore, all are welcomed to apply. You will assist with everything from daily social media scheduling across all networks to creating innovative graphic designs for event marketing, fundraisers, and social media marketing. You will work closely with our CEO in coordinating and planning our national social-emotional development program for young women along with our courses, workshops and fundraisers while providing overall administrative support for the team. 
Additionally, interns will work to grow and expand the work of the organization. The position will offer a great opportunity to gain experience in social media marketing and coordination, youth program development, fundraising, non-profit program development, brand marketing, and project management.
This is a remote internship.
***Please note that this internship is extremely hands on as we're looking to develop young talent who can grow within our small organization.  We're only looking for committed individuals who are willing to make this internship a priority. Also note that we are located in NYC, therefore, meetings/work hours are on Eastern Standard Time. Please DO NOT apply if you cannot commit at least 15-20 hours per week for the internship. 
Qualifications 
Must be able to receive school-credit for internship (This is an unpaid internship)
Currently attending accredited university
Ability to work remotely (Access to laptop, internet connection and cell phone)
Must have experience in using social media channels like Instagram, Facebook, Twitter, LinkedIn, YouTube, TikTok etc.
Must have previous experience working with Canva

 

Interest in brand-marketing, non-profit management or social-emotional development for young women

 

Experience in using social-media scheduling tools a PLUS

 

Previous experience in internships in the non-profit or education sector or working with women and girls a PLUS
GPA: 3.0 or higher
Excellent communication skills (both verbal and written)
Excellent multitasking skills
Great interpersonal skills
Critical thinker and problem-solving skills
Team player/Ability to work well with others

 

Self-motivated
Must embrace the mission of Embrace Her Legacy
​How to apply: Please fill out the application here 
---

BOARD MEMBERS 
Description
Embrace Her Legacy is in need of 2-3 additional board members to help us reach our monetary goals while helping us increase our capacity and evidence-based impact nationwide in order to develop a sharper focus on the resources that we need to succeed as a nonprofit organization. 
We are specifically looking for board members who have proven-track records in fundraising, marketing or youth/girls programming. Embrace Her Legacy would greatly benefit from someone who has a heart and sense for what a nonprofit financially needs to thrive. This is an extraordinary opportunity for an individual who is passionate about Embrace Her Legacy's mission. 
This is an overall fundraising board, therefore, potential board members must be comfortable with fundraising as this is our top priority – especially in the area of major gifts. We consider a major gift $1,000 or more. Fundraising is a significant obligation of board service. An ideal board member would have two previous years of experience in fundraising for nonprofit organizations. 
Additionally, we're looking for candidates who can assist in growing Embrace Her Legacy mission impact and reach via implementation of our programming by establishing partnerships with high-schools, colleges and youth organizations in NYC and/or around the country. 
We desire for each board member's individual annual "give/get" to be at a level that's comfortable and realistic for every board member. Overall we're looking for board members who are committed, adaptable, easy going, take accountability, work with integrity, and passionate about Embrace Her Legacy's mission.  Ideal applicants would have a working knowledge of nonprofit organizations, youth/girls programming, non-profit marketing and finances, and fundraising. 
All potential board members will be interviewed and required to submit (2) references in order to be considered. Board members can apply from anywhere in the country as the majority of our board meetings are virtual. Board service term limits are (2) years and can be adjusted as needed. Board member expectations are listed below.
We welcome all interested applicants to submit your application here. 
Board Member Expectations
Attend 75% of board meetings

Meet board quarterly and annual fundraising goals

Raise awareness of our events, programs and fundraisers and serve as a volunteer

Be a strong advocate of the organization by helping to raise our brand visibility.

Serve as a liaison between the organization and your professional networks

Serve as brand ambassador for Embrace Her Legacy

Assist in securing corporate sponsorships or brand partnerships

Attend, fully prepare for, and diligently participate in board meetings, and special events.

Make an annual personal financial contribution at a level that is commensurate with your financial means.

Actively participate in helping to develop resources for the organization.

Strive to keep abreast of trends, issues, and current developments that may affect the organization.

Represent the organization in a positive and supportive manner at all times.

Work collaboratively with staff and other board members as partners toward achievement of our goals.

Strictly maintain the confidentiality of all privileged or sensitive information provided to safeguard the organization's reputation and integrity, as well as the privacy rights of individuals and donors connected with the organization and the Board.
---



GRANT WRITER
Description
Embrace Her Legacy is in need of a grant writer to refine our monetary goals in order to develop a sharper focus on the financial resources that we need to succeed as a nonprofit organization. The various tasks of a grant writer would be to gather documentation and fulfill the necessary requirements of various funding agencies to formally seek funding on behalf of their nonprofit. Grant seeking is highly competitive and Embrace Her Legacy would greatly benefit from someone who has a heart and sense for what a nonprofit financially needs to thrive. 
An ideal grant writer would have two previous years of experience in grant writing for nonprofit organizations. Ideal applicants would also have a keen eye for detail, a working knowledge of nonprofit organizations, finances, and expertise on grant proposals and grant submissions. Grant writers should be well knowledgeable and concise when researching grants, reviewing grant guidelines, creating proposals, and communicating with clients and donors.
Must be able to work independently under tight deadlines and have expertise in researching opportunities. 
Qualifications ​
Foundation relationship and grant writing experience

2 years minimum experience in professional grant writing

Have knowledge and experience in fund raising techniques, particularly major gift fundraising.

Have the desire to build external relationships.

Be a "self-starter" and goal driven to initiate donor visits and fundraising calls.

Display a positive attitude, showing concern for people and community and demonstrate presence, self-confidence, personal integrity, common sense and good listening ability.

Working knowledge of iWork and Microsoft Office suite

Excellent written, interpersonal and verbal communication skills

Must embrace the mission of Embrace Her Legacy

Ability to work from home (Access to laptop, internet connection and cell phone) 
How to apply: Please fill out the application here 
---