ABOUT THE FOUNDER – MARIA I. MELENDEZ

As "the OG Mentor", social entrepreneur, motivational speaker & spiritual teacher, author of Take the Limits Off Your Legacy, producer, and women's leadership advocate– Maria I. Melendez has embraced her mission of empowering others to live a life that embraces a limitless legacy. After leaving her high-profile career in the music business to pursue her purpose of empowering others to live life in purpose, give birth to their dreams and define their legacy, Maria (who has been deemed by clients and peers as your personal "Goals Girlfriend") has proven that she is the essence of living a purpose and legacy driven life in order to inspire others to follow suit. Featured in the ESSENCE magazine, Latina.com, Heartandsoul.com and recipient of several notable accolades, she is an influential leader whose faith, zealous drive, experience, framework, story and impact are key to the leadership development in women and girls around the world. Her contemporary style of transparency, authenticity, wit, humor and positivity are key to in her message of transformation.
Continuing with her entrepreneurial endeavors, Maria recently launched Melendez Project Management & Consulting – a boutique project management and consulting brand firm providing consulting services in podcast development, media, writing and content management services, books publishing, online courses, resume writing, personal coaching, website development, brand marketing & artist development.
Maria launched Embrace Her Legacy in 2012. Since then Maria has transformed the brand from a women's network to an empowerment organization the offers an online learning center, enrichment programs, personal development courses, tailored events, and community to inspire millennial women and girls to achieve a purpose-driven legacy. She is the creator of Embrace Her Legacy's franchise empowerment program for young women, the Embrace Her Legacy Academy, host of the Embrace Her Legacy podcast and the curator and head instructor of Embrace Her Legacy University which is an online learning center for millennial women to grow in personal development, faith and dream birthing. Maria has recently added spiritual teacher to her list of skills as she pursues her Masters of Media Arts & Worship at the prestigious Dallas Theological Seminary.
Hear her share a little about the history behind Embrace Her Legacy:
Maria diligently leads the company to become a leading organization to inspire and educate millennial women to be legendary under her unique framework. "Embrace Her Legacy is about helping give birth to the gift's that have already been placed inside of us so we can become the women we have been created to be so we can honor what we have been called to do. I use my personal story of overcoming personal challenges of low self-worth and a failed suicide attempt and a personal wilderness to achieve my dreams to now live in my purpose to help others birth their own vision and legacy. I do that by coaching, motivating and educating my audience through my distinct Embracing Her Legacy framework." she says.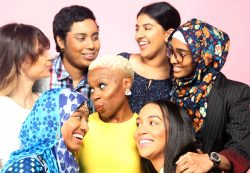 Raised in Brooklyn, Maria successfully achieved her goals while going against the odds. She excelled as a scholar and graduated Cum Laude from Hofstra University with a marketing degree. It was during her time at Hofstra University where Maria grew an infinite passion of empowering others, especially women. She had already overcome her own struggles as an Afro-Latina growing up in the inner city. She realized that had it not been for her faith, mentors and education that she would not have been privileged with all the opportunities that came her way. Maria set out on a mission of leading other young women to victoriously do as she did. During her senior year of college, Maria landed an internship which led to a coveted position Warner Music Group where she created and managed ground-breaking marketing campaigns for artists including Jay-Z, Toni Braxton, T.I., Trey Songz, and others. Maria's marketing and promotion prowess only flourished and essentially fueled her life-long passion of starting her own company. After facing her own fears, she resigned from Warner Music Group to launch Embrace Her Legacy so she could live in her purpose. Maria continues to soar as a leader and advocate for empowering women and girls to realize their dreams.
For booking Maria I. Melendez for speaking engagements, keynote speeches or empowerment workshops, please contact info@embraceherlegacy.com or fill out our speaker request form here