***OUR EMBRACE HER LEGACY ACADEMY: NATIONAL SUMMER INSTITUTE 2022 IS NO LONGER ACCEPTING APPLICATIONS. PLEASE SIGN-UP FOR OUR VIP EMAIL LIST BELOW TO BE NOTIFIED WHEN WE OPEN APPLICATIONS FOR OUR NEXT COHORT***
Sign-Up to Be the First to Know When Applications are Available!
If you have any questions, please contact us directly at hello@embraceherlegacy.com. Please read through the entire page prior to applying.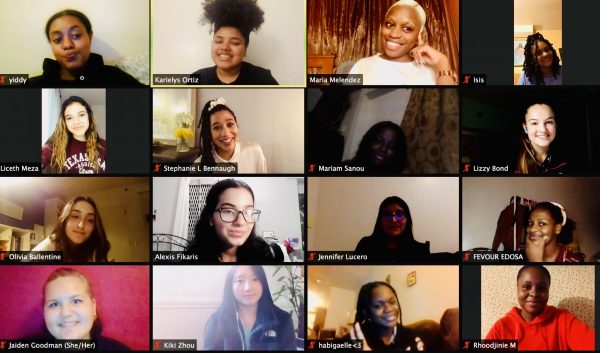 Our Embrace Her Legacy Academy is a social-emotional, personal development and leadership development program offered to young women ages 14-19. Since our program is now virtual, students can hail from any part of the country. The institute is targeted to girls who demonstrate strong leadership and academic ability. With small cohorts of 10-15 students, we equip these young women with the tools needed to achieve success in self-confidence, personal development, career, education and leadership.
Our goal is to ignite a powerful and emotionally healthy relationship with self while using that as the foundation to realize personal and professional goals. Because of our intimate group size, each student gets the individualized attention that she deserves in a psychologically safe space.
STUDENTS…THIS PROGRAM WILL HELP YOU LEARN HOW TO LIVE OUT YOUR BEST LIFE!!!
We will focus on the elevation and transformation of:
Your self-image

Your confidence

Your purpose and personal mission 

Your ability to think positively 

Your relationship with yourself and others

Your education, career and lifestyle goals 

Your ability to confidently talk about your strengths 

Your decision-making, leadership and negotiation skills 
​Our curriculum is an intensive series of personal development and leadership development classes virtually offered over 2-weeks every summer or 10-weeks in the Fall. The program also offers students the opportunity to enhance their professional networks by connecting students to esteemed professional women and men who will serve as guest instructors for select classes.
Students will get to learn how to say "good-bye" to living with fear, not feeling good enough, or dealing with negative people in your life who don't understand you. The program has been almost unanimously voted as a "life-changing experience" from program graduates. ​Our goal is for every girl to learn to defeat her "inner saboteur" and live out a purpose-driven legacy.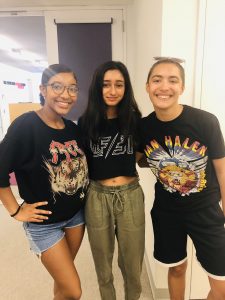 Got questions? Contact us at: hello@embraceherlegacy.com 
GAIN ACCESS TO POSITIVE ROLE-MODELS 
A hand-selected, diverse group of notable professional women and men will serve as guest instructors. Mentorship is one of our core values. Our guest instructors not only extend their valuable knowledge and experience but also make themselves available to develop mentorship relationships with students.  
All students in our program also gain the opportunity to be personally mentored by our founder and lead instructor of our programs, Maria I. Melendez.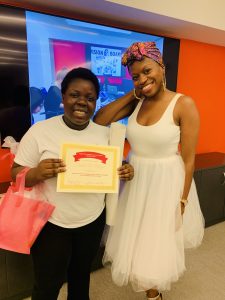 1 in 4 female students report that their greatest challenges in attending college are confidence, motivation, or support. Therefore, Maria makes herself available to help students through the college and career readiness process along with personal development coaching. She has dedicated her life to personally mentoring young women in need of support and guidance. ​Students with a mentor are: 130% more likely to hold leadership positions + 55% more likely to enroll in college. 
PROGRAM APPEAL: PERSONAL DEVELOPMENT CONFIDENCE BUILDING, IDENTIFYING INNER SABOTEUR, BUILDING LEADERS! 
Our environment is one of sisterhood dedicated to giving young women the opportunity to connect. We have a proven track record of instilling confidence in young women during the challenging teenage years where parents may be encountering distance from teens.
Low self-esteem in teenage girls is a problem. 7 in 10 girls believe that they are not good enough or don't measure up in some way (including their looks, performance in school, and relationships with friends and family members).
The challenges in self-esteem grow significantly during teenage years for girls especially. This gender gap, forming in adolescence, occurs as boys tend to have higher self-esteem than girls since girls are more vulnerable to the exposure of ongoing and digitally enhanced "beauty standard" messages that are proliferated throughout the media.
Social media has also influence self-esteem in teenage girls tremendously. The number of teenage girls out of 100,000 admitted to a hospital for self-inflicted harm was 62% for older teen girls and 189% for preteens girls since 2011. Suicide is up 70% for older teen girls and 151% for pre-teen girls since 2011. These patterns point to the rise of social media influencing Generation Z. (Social Dilemma documentary, 2020) 
Furthermore, if a girl has experienced being raised in a critical environment, been verbally or physically abused, ignored, or teased, met with unrealistic expectations of constant perfectionism or has been considered unattractive by peers then it is more than likely that she will suffer from low self-esteem.
Once the low self-esteem exists, subsequent behaviors that can occur are depression, anxiety, anger, hostility, self-deprecation, negative or low expectations, risk-taking, substance use, avoidance and distrust in relationships, low expectations, and fear of change.
As a result, statistics show that: 

75% of girls with low self-esteem reported engaging in negative activities such as disordered eating, cutting, bullying, smoking, or drinking when feeling bad about themselves (Compared to 25% of girls with high self-esteem). 

25% of teen girls with low self-esteem practice disordered eating, such as starving themselves, refusing to eat, or over-eating and throwing up when feeling bad about themselves (Compared to 7% of girls with high self-esteem). 

25% of teen girls with low self-esteem resort to injuring themselves on purpose or cutting when feeling bad about themselves (Compared to 4% of girls with high self-esteem)
Our workshops and programs, including our Embrace Her Legacy Academy, seek to help solve the problem of low self-esteem and a negative relationship with self in teenage girls. Our program seeks to eradicate these statistics. The content of our program covers a variety of issues young women are confronted with from emotional wellness to setting healthy boundaries to choosing a desirable career path.
Students Get To: 
Build confidence and high self-esteem

Identify and manage your "inner saboteur" 

Learn how to design and build your best life

Identify internal struggles and negative self-talk to increase emotional strength

Build on their worthiness, validation, and self-acceptance


Overcome perfectionism and embrace authenticity and vulnerability

Identify the internal fears and mental roadblocks that stand in the way of you and your desired career and education goals

Meet with girls who are motivated and driven like you

Meet women and men who've been through what you're going through and can help you get where you want to go

Receive recommendation letters for college applications, internships & career opportunities

Serve as an ambassador of our organization at your school 

Gain the opportunity to participate in local, national and international program initiatives 

Qualify for an internship with Embrace Her Legacy 

Gain access to professional mentorship by our founder and other esteemed professionals in our network.

Create healthy relationships with others and implement boundaries 

Learn financial success tips 

Learn time-management techniques 

Master negotiation strategies: We teach you how to negotiate like a boss 

Career development secrets

Effective goal-setting practices
PROGRAM STRATEGY
We use different visualization exercises, written assignments, lectures, journaling, affirmations, experiential learning, storytelling, and coaching techniques to motivate, educate, and empower students. Each session will conclude with custom action-steps for students to actively engage in their overall personal development throughout the course. ​​
**For exclusive behind-the-scenes footage of our 2020 and 2021 program, follow us on TikTok: @embraceherlegacy
WATCH OUR 2022, 2021, 2020, 2019, 2018, 2017 PROGRAM IN ACTION & HEAR OUR 2015 INAUGURAL MENTEES TESTIMONIALS BELOW
PROGRAM IMPACT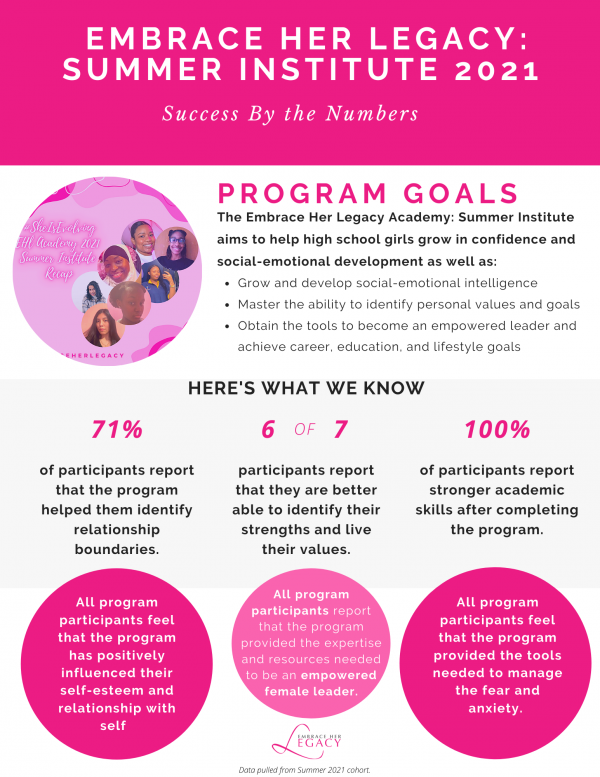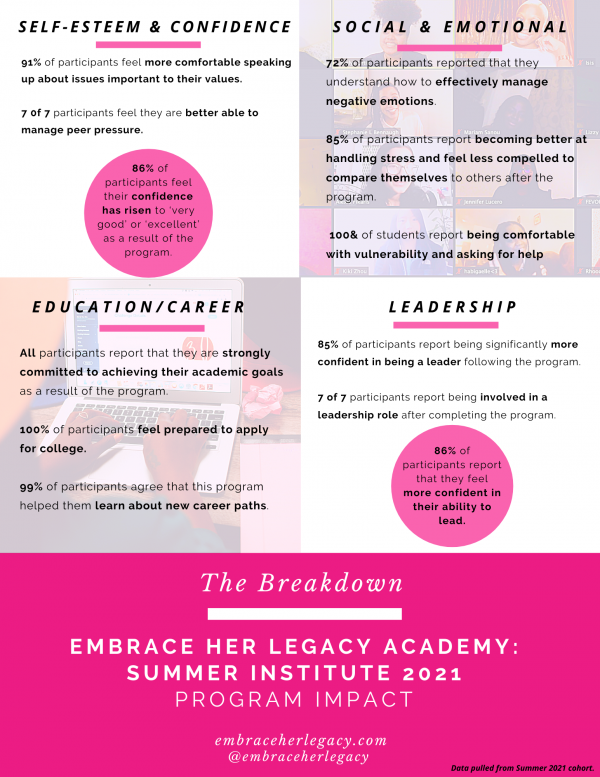 OUR FAMILY OF GUEST SPEAKERS 
The Embrace Her Legacy Collective is our community of successful, legacy-driven women and men who have donated their time to volunteer and serve as inspirational role models for the young women of Embrace Her Legacy. These women and men take part in our Embrace Her Legacy Academy as volunteer guest speakers. They are industry experts in their respective careers and take the time to speak with our students on topics varying from financial literacy, beauty, confidence, leadership, and more. These women and men serve as positive representations for our young women to see people who look like them succeeding in different careers and embracing their legacy. These are OUR Legacy Makers!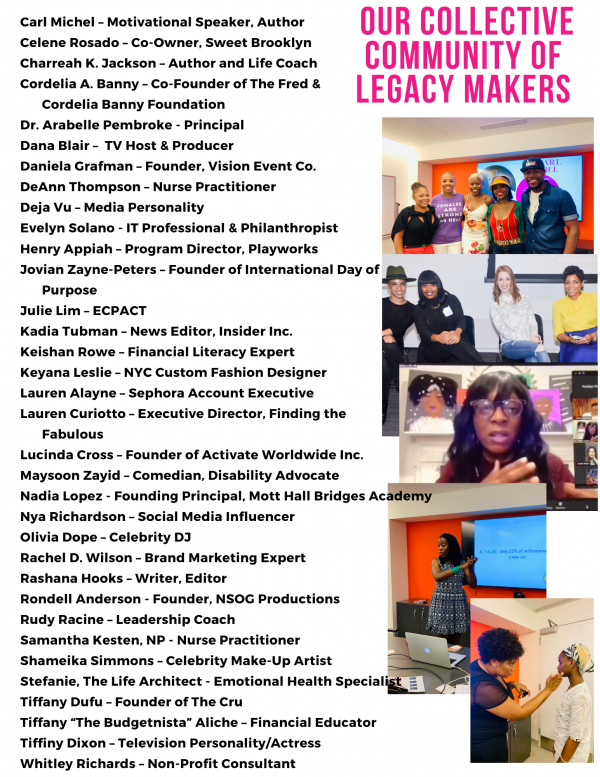 INSIDE THE PROGRAM CURRICULUM*
Break Up With Your Inner Saboteur

– Focuses on establishing a healthy relationship with yourself, embracing vulnerability and authenticity while relinquishing perfectionism, elevating your confidence, and overcoming negative self-talk by identifying your inner self-sabotaging voice. 

How To Face Your Fears to Win the Battlefield in Your Mind –

Students learn how to identify dominate negative thought patterns and implementation of positive thought-therapy and affirmations. 

Savage Goal-Slaying (Vision Board MastHERclass) –

Students will learn our "goals framework" and engage in proven strategies to effectively define, set, and achieve personal and professional goals. 

Squad Goals 101 –

Students will learn about developing meaningful personal and professional relationships, establish healthy boundaries, networking skills, and how to identify signs of toxic relationships.

Annual "Embrace Your Legacy" Panel Discussion –

A panel discussion and networking workshop with several esteemed professional women and men on success, career, personal mission, and confidence.

The Age of the Selfie: Real Talk About Confidence & Your Personal Brand in a Digital Age

– Students learn how to embrace healthy self-esteem while dealing with the pressures of social media and cyberbullying while learning the dos and don'ts of using social media, including personal branding strategies. 

Girl Boss 101

– Students learn how to become the CEO's of their careers and lives as we share some common mistakes in career development. 

Negotiate Like a Boss

– Students learn graduate level negotiation skills. 

Get Your Money Right

– Our financial literacy course discussing credit, debt, savings, earnings, student loans and more. 

Becoming a Fierce Leader –

  Strategic leadership principles for students to learn how to lead their lives, organizations, and teams.

Embrace Your Beauty and Dress for the Life You Want

– Our popular beauty and style coaching class for students to embrace individual style and healthy self-care routines. 
*Classes subject to change.
SUMMER 2022 PROGRAM DATES
Session 1: Mon. July 11th  – 10:30am – 2:30pm EST
Session 2: Tues. July 12th – 10:30am – 2:30pm EST
Session 3: Wed. July 13th – 10:30am – 2:30pm EST
Session 4: Thurs. July 14th– 10:30am – 2:30pm EST
Session 5: Fri. July 15th – 10:30am – 2:30pm EST
Session 6: Mon. July 18th – 10:30am – 2:30pm EST
Session 7: Tues. July 19th – 10:30am – 2:30pm EST
Session 8: Wed. July 20th – 10:30am – 2:30pm EST
Session 9: Thurs. July 21st– 10:30am – 2:30pm EST
Session 10: Fri. July 22nd – 10:30am – 2:30pm EST

PROGRAM TUITION COST
Individual tuition fee for each student to participate in the program: $340.00*
*Full and Partial need-based and merit-based scholarships available*

APPLICATION FOR PROGRAM
We are no longer accepting applications to our 2022 Summer Institute. Sign-up to be notified when applications open for our next cohort here.
WHO SHOULD APPLY TO THE PROGRAM?

We're looking for young women (ages 14-19) who possess the following criteria to apply for the program:
Strong academic GPA

Possesses leadership qualities and potential

Demonstrated communication skills

Success and career-driven

Passionate about empowering women and girls/gender-equity 

Involved in academic or social organizations

Previous leadership or teamwork experience a plus

Ability to work well with others

Goal-oriented

Self-motivated

Positive attitude
APPLICATION + INTERVIEW DETAILS
In order to be considered for the program, all interested applicants must complete the application form below. (You can start and resume the application at your convenience). Once the applicant submits her application, one of our staff members will reach out via email to applicants to schedule a virtual interview or request any additional information.
Following the virtual interview, a final decision of the applicant's status will be made and she will be notified via email whether she has been accepted to the program. Once accepted into the program, the applicant has (14) days from the date of receiving their acceptance letter to provide her tuition payment and the signed parent/guardian consent form in order to secure her spot in the program. The tuition invoice will be sent via email and can be paid via debit/credit card or check written out to The Embrace Her Legacy Foundation Inc. 
All accepted applicants, MUST submit our signed Parent/Guardian consent form upon acceptance into the program (unless 18 years or older). The form will be attached to the acceptance email.
REFUND POLICY 

Once your tuition payment is remitted, your tuition is non-refundable and non-transferable. We highly encourage students to apply as soon as possible as acceptances are on a first-come, first-serve basis. 
SCHOLARSHIPS
The total program tuition cost is $340. Full-ride and partial scholarships are available on a first-come, first-serve basis to aid with program tuition costs. Students will have to submit a short essay and a copy of the latest report card to qualify for a scholarship. It is highly recommended for students interested in applying for scholarships to aid with program tuition costs to apply sooner than later. Program tuition scholarships are both need and merit based.