It's that time of year again to embrace a spirit of gratitude, giving back, joy, and hope!
This year for Giving Tuesday, Embrace Her Legacy is inviting you to meet us (up close and virtually). We want you to meet some of of our legends (program graduates) and those who have been impacted most by our mission. We are inviting you to an exclusive virtual event to learn WHO we are and WHY we are. 
In our current climate, it's more important than ever to assure that there are tools, resources, positive role-models, programs and content to aid with the overwhelming demand to build and protect the overall self-esteem and mental/emotional health of young women of color, which is what we do at Embrace Her Legacy. 
Giving Tuesday (Tues. November 30th) is the one day a year that is set-aside for giving back and for charity. It's the time where, we, as nonprofits propel our mission forward through raising funds and awareness.
This event is indeed a fundraiser, so please be prepared to give whatever you can to help us move our mission forward. This is YOUR opportunity to pour into the young women in your community or an opportunity to give back to a 17-year old version of yourself. Think about how many mistakes you could have avoided if you had someone to guide, mentor or coach you in the areas of your emotional health, self-esteem, personal relationships, finances, personal or leadership development.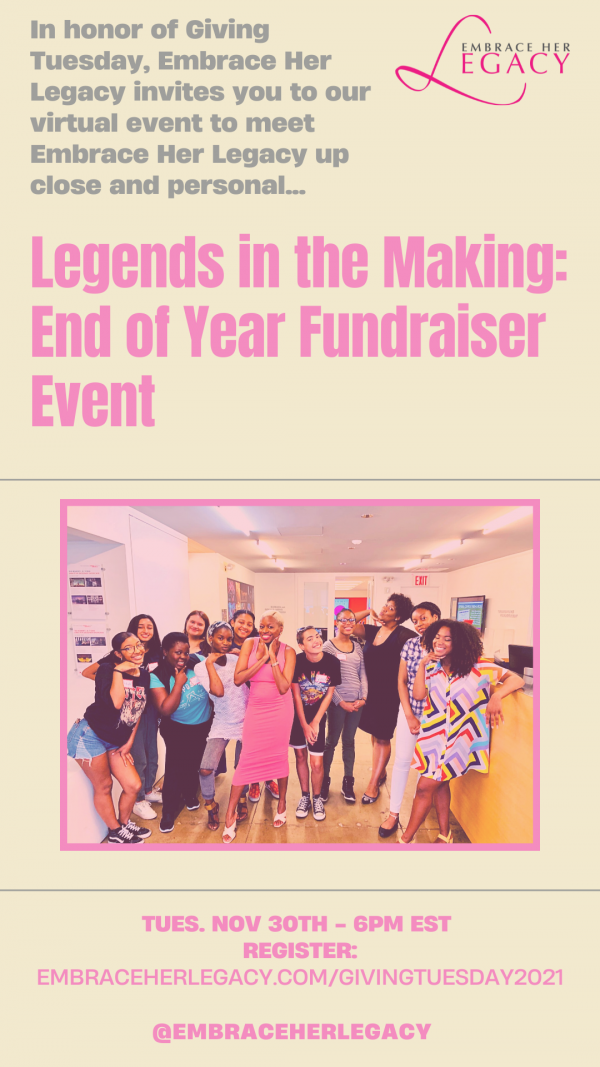 We are committed to increasing self-confidence, social-emotional development and self-worth before anything else, while always striving to achieve confident leadership ability and emotional intelligence for millennial women and Gen Z girls of color. We do this by:
Our Embrace Her Legacy Academy (High-School and College) – Our flagship social-emotional development program from young women of color

Social-emotional, personal and leadership development workshops (called "mastHERclasses")

Dynamic social media and our personal development podcast for millennial women of color 
With the additional effect of the COVID-19 pandemic, there is an overwhelming demand for young women of color from marginalized communities to be supported in their social-emotional development. With Olympians and athletes like Simone Biles and Naomi Osaka making their mental health a priority, the conversation ensuring girls know that their emotional health comes first is why our work matters. 
We believe that if a woman or girl is struggling internally whether it be with lack of confidence or negative thought patterns or social anxiety that will in turn negatively impact her ability to be a productive student, leader or member to society. We're here to help fix that problem and YOU CAN HELP US! 
Register for Legends in the Making Event - 6pm EST/Nov 30th
Can't make the event but want to show your support with a donation? Donate Here