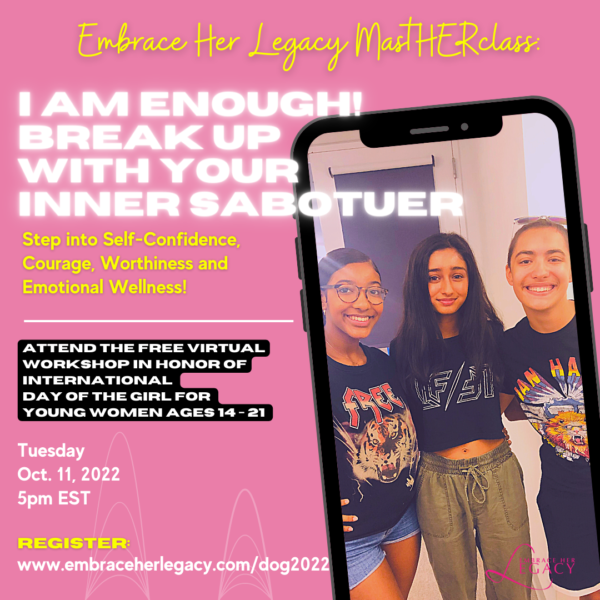 International Day of the Girl is almost here on Tues. October 11th and we are excited to host our Day of the Girl: I Am Enough Breaking Up With My Inner Saboteur mastHERclass workshop!
Don't let social media fool you! Everyone deals with challenges, insecurities, ups and downs, highs and lows of life.
It can feel like you're alone but you're not! Feelings of not being good enough, self-doubt, lack of confidence, and frustration hit us all. We all have a negative voice inside of us that feeds us insecurities around everything from how we look, mistakes we've made, what we can accomplish or what we're capable of.
That's your inner saboteur, that's the enemy within.
If you didn't know, Embrace Her Legacy is a personal development organization that is designed to help young women defeat that inner saboteur, essentially what we do is equip young women with the tools necessary to step-into self-confidence, courage, emotional wellness, leadership so that you can live your purpose-driven legacy and become the FIERCEST you that you can be! We do that through programs, workshops and coaching for young women around the country! 
So we're giving you the opportunity to attend our FREE mastHERclass workshop "I Am Enough: Break Up With Your Inner Saboteur" for young women ages 14-21 on Tuesday, October 11th at 5pm EST. 
It's virtual so you can tune in from your couch! But we do suggest that you bring some sort of notebook or journal because you're going to want to take notes!
If you want to see our program in action or listen to some of our previous students testimonials, take a look at the video below of our Embrace Her Legacy Academy: National Institute 2022!
You can watch more videos on our YouTube channel, TikTok or Instagram! (@embraceherlegacy) 
During this workshop, we will teach you learn how to use strategies for personal self-acceptance to overcome a lack of confidence, embrace authenticity and relinquish perfectionism. 
You'll get to experience the "inner saboteur" exercise in which you'll  be able to examine negative thought patterns while learning methods to actively engage in compassion for yourself and others in order to establish a healthy relationship with yourself.
Proceeding the workshop, our founder and CEO, Maria I. Melendez (who is the mentor of all mentors) will have an "Inspirational Homegirl Chat"; an opportunity for you to ask her questions about confidence, navigating emotional wellness, and how to step into being your best you! 
So if you're ready to grow into the best version of yourself, and break up with the negative voice inside of you that's tried to hold you back for so long, then register for the FREE workshop below! We are so excited to see you on October 11th at 5PM EST!