Our founder, Maria I. Melendez is known to take over stages across the globe with her message of inspiration and personal transformation. Maria along with several other facilitators are available to facilitate personal development and leadership development workshops, self-empowerment trainings and motivational speaking engagements.
Please note that we are now offering ALL of our workshops virtually to meet your needs. Virtual workshops can be live, pre-recorded or a combination of both. Fill out our request form or email us at hello@embraceherlegacy.com to learn more about booking your next workshop, training or keynote/motivational speech. 
We offer a diverse programming suite featuring but not limited to: 
Breaking Up With Your Inner Saboteur + Mastering Your Relationship With Self
Becoming a Magnetic Woman: The MastHERClass
Negotiate Like A Boss
Major Keys to Slaying Your Goals
DIY Podcasting
Age of the Selfie: Real Talk About Confidence and Your Personal Brand in a Digital Age
The Cost of Becoming an Extraordinary Entrepreneur
Embrace the Power of Your Story
The Cost of Being Extraordinary
Girl Boss 101
How to Face Your Fears and Win the Battlefield in Your Mind
Developing Your Dope Tribe
Becoming a Fierce Leader – Laws of Leadership
Creating My Personal Mission
Keys to Discover My Purpose
PREVIOUS CLIENTS & SPEAKING ENGAGEMENTS INCLUDE:
Activate Your Beauty Conference | Building Young Minds Inc. | Cedarmoore
GirlzTalk | Crotona International High School | Department of Health and Mental Hygiene | Fashion Institute of Technology | Fordham University | Grace Institute|High School of Fashion Industries | Hire Learners | Hofstra University | Kingsborough Community College | Millennium High School | New York University | Rise Up for Youth | Skidmore College | Spire & Co. | Stony Brook University | The Opportunity Network | "The Revolution" Conference | The Young Women's Leadership School: Brooklyn | Trinity Baptist Church | Trinity College | Young Enterprising Sisters Conference
Watch a few videos of our workshops below:

TESTIMONIALS 
"Maria truly made our students break out of their shells and think in a more positive light. She encouraged the ladies to ask important questions of themselves. I believe it was necessary for the ladies to hear that they are more than their flaws. If young women can learn lessons from each other instead of experiencing tough heartbreaking situations, it stops an unnecessary cycle of pain and suffering. In turn, it allows them to become their best selves. This will undoubtedly start a new trend of success, empowerment and kindness towards ourselves and others."Assistant Dean, Hofstra University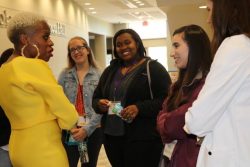 "Simply put, Maria is always the most memorable person in the room. Her dedication to helping young women succeed, her drive to build the Embrace Her Legacy empire and the enthusiasm she has for executing her vision is unparalleled. Maria's vibrant personality, warmth and transparent honesty made her a favorite speaker at The Revolution, our tri-state leadership conference for teen girls, and has made her an invaluable part of our sisterhood. As an author, women's leadership advocate, executive producer and social entrepreneur, Maria is the perfect role model for what it looks like to walk in your purpose and build a legendary legacy. Her confidence, business savvy and desire to make a positive impact speak for themselves. I'm honored to call Maria a friend and a colleague as we work together to inspire girls to pursue their dreams."
-Lauren Curiotto, Founder & Executive Director, Finding the Fabulous Inc.