Register for the Free MastHERClass!
Embrace Her Legacy is a 501(c)(3) non-profit personal development organization dedicated to equipping millennial women and Gen Z girls with the tools needed to overcome internal and external challenges in fulfilling a purpose-driven legacy.
Our vision is that every girl and every woman defeats her inner saboteur, masters her relationship with self and lives out her legacy…unapologetically.
Essentially what we do is equip young women with the tools necessary to step-into self-confidence, courage, emotional wellness, leadership so that you can live your purpose-driven legacy and become the FIERCEST you who you were destined to be! We do that through programs, workshops and coaching for young women around the country.
Check out the video below of our 2022 Embrace Her Legacy Academy: National Institute! 
This is the official launch of our free virtual mastHERclass courses of the Inner Saboteur University starting with our mastHERclass tackling the inner saboteur of not feeling good enough.
We're inviting you to join us live on Wed. March 8th, 2023 at 6pm EST. (NEW DATE) 
The workshop is for young women 14 – 21 who feel like sometimes you struggle with that nagging, annoying feeling of not feeling good enough; whether it's for the spot on the team, the job, the internship, the loving relationship, or the school. 
Not sure if this is you? Well, let us help you out by looking at the definition of enough, good enough and good: 
Enough: 
occurring in such quantity, quality, or scope as to fully meet demands, needs, or expectations

adequate for the want or need; sufficient for the purpose or to satisfy desire
in a quantity or degree that answers a purpose or satisfies a need or desire; sufficiently.

Good enough:

adequately good for the circumstances

Good:

o

f a favorable character or tendency

to be desired or approved of

having the qualities required for a particular role.

So when you feel as though you're not good enough, you're thinking about the opposite. To not feel good enough, means to feel:
Inadequate

Insufficient 

Lacking
Unsuitable
Unacceptable
Unsatisfactory
Unpleasant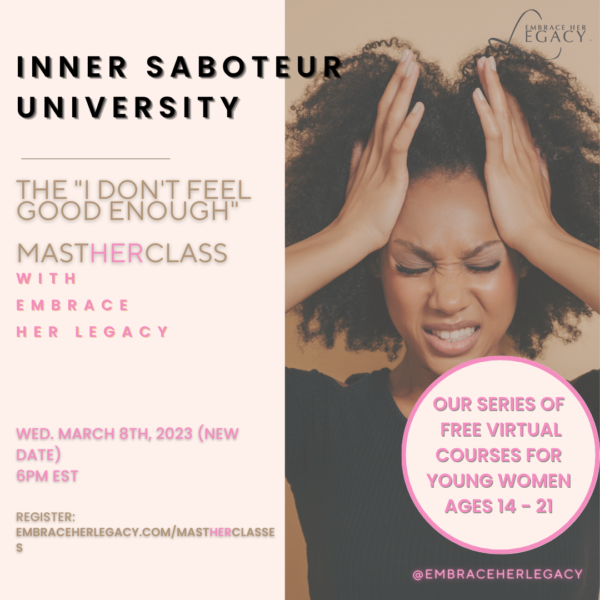 Hits deep huh?
If it does, you're not alone. The truth of that matter is that those thoughts are LIES! Feelings of not being good enough, self-doubt, lack of confidence, and frustration hit us all, so please don't let the scrolling fool you. We all have a negative voice inside of us that feeds us insecurities around everything from how we look, mistakes we've made, what's possible, what we can accomplish or what we're capable of.
That's your inner saboteur, that's the enemy within. 
The key is to not let those emotions drive your decisions or sabotage all the good that you have coming your way! Sis, you have to win the battle in your mind first!
During this workshop, we will teach you to gain a strong self-awareness and tools to build self-confidence and self-worth while learning how to adapt behaviors that lead to the development of a positive self-concept in order to communicate and interact positively with yourself in order to achieve education, financial and career goals. 
You'll get to experience the "inner saboteur" exercise in which you'll  be able to examine negative thought patterns while learning methods to actively engage in compassion for yourself and others in order to establish a healthy relationship with yourself.
Proceeding the workshop, our founder and CEO, Maria I. Melendez (who is the OG Mentor) will have an "Inspirational Homegirl" Q&A; an opportunity for you to ask her questions about building confidence, navigating emotional wellness, and how to step into being your best you! You can read her feature in Forbes magazine here. 
Sis, if you're ready to grow into the best version of yourself, and break up with the negative voice inside of you that's tried to hold you back for so long, then register for the FREE workshop here or below!  
You can watch more of our videos and content on our IG, TikTok and YouTube. (@embraceherlegacy)