Thank you so much for your overwhelming response of my book, Take the Limits Off Your Legacy: A Woman's Guide to Unlock Purpose and Vision! It's my mission to empower women and girls to remove all the limits in achieving your dreams and realizing the destiny that you want and deserve – this is my personal assignment which I'm honored to be chosen for!
Take a sneak peak into my last book discussion event on Thurs. October 1st where I got up close and personal in an intimate discussion on purpose, dreams, faith and the power of your story. Inside my book, I am very candid about the trials I have had to overcome in order to pursue my dreams. My story is a mess turned into a message and discussed the power of our stories, womanhood, the journey of success, pursuing your purpose and overcoming challenges like fear, insecurities and low-self worth.
My book provides of framework to help you turn your own mess into a message, take back the power in your story and triumph in your trials in order to discover your God-given purpose and realize the vision that has been placed in your heart. During this up close and personal event, I talked directly to women and girls about my challenges and how I've overcome to empower you to embrace your life of victory and your limitless legacy! I know what it feels like to struggle with confidence and self-worth, to struggle with guilt from past mistakes, to struggle with fear in pursuing your passion because you may feel incapable. Take it from me, what you have been called for, you have been gifted for! And it's time to step into your season of victory, I can't wait to share more with you.
As an EXTRA PLUS, we enjoyed a special performance by poet/musician, Laroque! The fabulous celebrity news and pop-culture site, Cocoafab.com partnered with us for this event as well.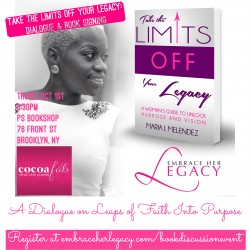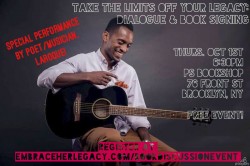 About Take the Limits Off Your Legacy: A Woman's Guide to Unlock Purpose & Vision
Take the Limits Off Your Legacy: A Woman's Guide to Unlock Purpose and Vision was created to evoke confidence in women and girls to embrace the power in their story and live a limitless legacy. It's a journey of becoming who you have been called to be to honor what you have been called to do to so that you can fearlessly unlock the limitless opportunities of your life's purpose and vision. Maria provides several keys to remove the limits off not only your mind but also the vision you have for your life and the power of God which will ultimately take the limits off of your legacy. Her narrative and framework provokes readers to strive for a lasting impact on the lives of others by boldly deciding to birth their dreams. Incorporating a sincere account of transformation, Maria uses her story of conquering several personal challenges as the foundation to provide a guide to inspire women and girls all over the world to confidently live out their dreams and embrace a limitless future. Maria shares effective tools to empower you to honor your story, conquer fears and self-doubt, discover your purpose, give birth to your vision, and live a limitless legacy to create an optimal life with confidence, poise and intention! Order your copy here
About Maria I. Melendez
As "the midwife to your legacy," social entrepreneur, motivational speaker, author of Take the Limits Off Your Legacy, executive producer, and women's leadership advocate– Maria I. Melendez has embraced her mission of empowering others to live a life that embraces a limitless legacy. After leaving her high-profile career in the music business to pursue her purpose of empowering others to live life in purpose, give birth to their dreams and define their legacy, Maria has proven that she is the essence of living a purpose and legacy driven life in order to inspire others to follow suit. Featured in the ESSENCE magazine, Latina,com, Heartandsoul.com, and recipient of several notable accolades, she is an influential leader whose faith, zealous drive, experience, framework, story and impact are key to the leadership development in women and girls around the world.